Search Title
/content/bendixking/us/en/search.html
Do you know that your internet browser is out of date?
Your browser is out of date, and may not be compatible with our website.
Please use IE11, or download the latest version of Chrome, Firefox or Edge.
Close This Window
By closing this window you acknowledge that your experience on this website may be degraded.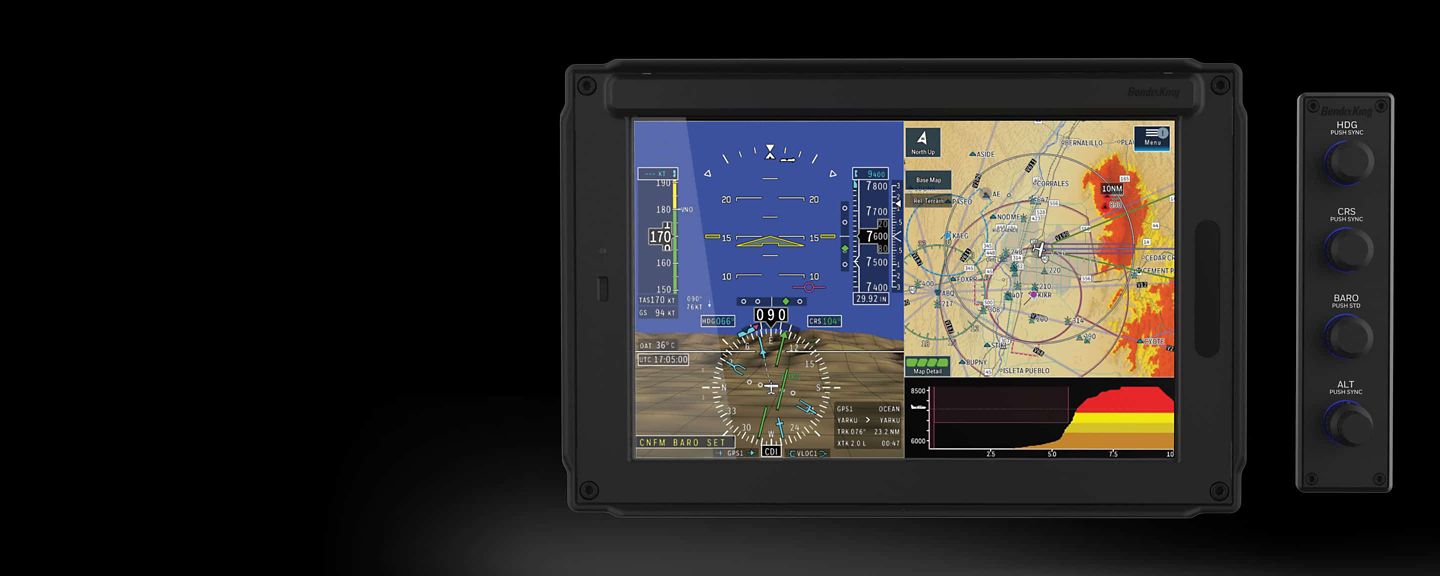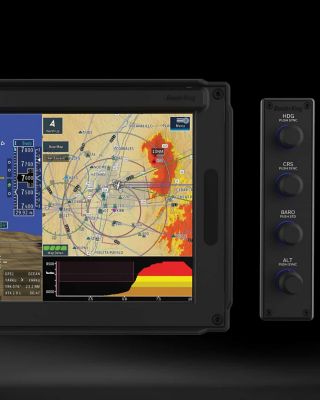 Say Hello to AeroVue Touch for Cessna Skyhawks and Skylanes
The AeroVue Touch Integrated Flight Deck by BendixKing offers the best cockpit solution in a single, powerful and affordable forward-fit or upgrade package. The 10.1" display provides near 4K resolution, the highest in the industry. The display can be used as full screen primary flight display or a split screen primary and multifunction display. Features include:
Award-winning displays with built-in engine monitors
GPS navigators
Audio Panel
Autopilot
Back-up attitude indicator
ADS-B In/Out Transponder
Bluetooth
Wi-Fi connectivity
The BendixKing team stands ready to deliver and support our industry-leading integrated flight deck for your Skyhawk and Skylane aircraft.
LIGHTWEIGHT DESIGN
The entire solution weighs 57 pounds, which is 30 to 50% less than the previous BendixKing flight decks.
SOFTWARE UPDATES AND UPGRADES
New features include an easily upgradeable computing engine. No more stand-alone components requiring downtime, installation costs, or compromising the panel. Features can now be easily updated via software, saving time, money and costly hardware compatibility issues.
AFFORDABILITY
This complete flight deck features award winning design and high performance at a low cost.
Learn More
Please submit your contact information to learn more about this product.
Standard Features
1920 X 1200 WUXGA high resolution touchscreen display
Attitude, heading, turn coordinator, airspeed, altimeter, vertical speed and course deviation indicators
Full screen mode can show primary flight display, split screen mode can show primary and multifunction displays
Multi-function display includes moving map, VFR and IFR charts, ADS-B traffic and weather
SmartView™ synthetic vision
Integration with commonly used autopilots and navigators
4-Knob remotely mounted controller
Built-in Wi-Fi and USB-C port
Full 2-year system warranty
Primary Flight Display
Dimensions: 6.897 x 10.45 x 4.08 in. (175.18 x 265.43 x 103.63 mm)
Mounting: front mount
Weight: 7.59 lbs. (3.44 kg)
Current draw – typical: 1.33 AMP for 28 VDC | 2.66 AMP for 14 VDC
Operating voltage: 9.0 to 30.3 VDC
Circuit breaker: 2 AMP for 28 VDC, 3 AMP for 14 VDC
Cooling: convection cooled (no fan)
Connectors: 1 female 78-pin and 1 male 78-pin
Viewing angle envelope: 80° from all directions
Control Panel
Dimensions 1.48 x 6.25 x 3.67 in. (37.6 x 158.8 x 93.2 mm)
Mounting: front mount
Weight 1.05 lbs. (0.47 kg)
Current draw: powered from flight display, current draw, included with flight display
Operating voltage: provided by flight display
Circuit breaker: none, uses circuit breaker for flight display
Cooling: convection cooled (no fan)
Connectors: male 9-pin D-sub
Magnetometer
Dimensions: 3.70 x 5.83 x 1.33 in. (93.98 x 148.08 x 37.78 mm)
Weight: 0.90 lbs. (0.41 kg)
Temperature: -55 ° C to +70° C
Altitude: 55,000 ft.
Operating voltage: 9.0 to 30.3 VDC
Current draw (at 27.5 VDC)

80 mA Nominal, 25° C, after 2 minute warmup
200 mA Nominal, -55° C, after 2 minute warmup
700 mA Maximum, -55° C

Circuit breaker: 1 AMP for 28 VDC, 2 AMP for 14 VDC
Signal inputs/outputs: Serial CAN bus
Cooling: convection cooled (no fan)
Connector: female 9-pin
Air Data Attitude Heading Reference System (ADAHRS)
Dimensions: 8.65 x 5.1 x 1.4 in. (219.72 x 129.43 x 35.56 mm)
Weight: 2.17 lbs. (0.98 kg)
Current draw – typical: 0.2 AMP for 28 VDC | 0.4 AMP for 14 VDC
Operating voltage: 9.0 to 30.3 VDC
Circuit breaker: 2 AMP for 28 VDC, 3 AMP for 14 VDC
Cooling: convection cooled (no fan)
Connectors: male 50-pin and female 9-pin (maintenance port)
Outside Air Temperature Probe (OAT)
Dimensions: 1.65 x 1.75 x 1.00 in. (41.91 x 44.45 x 25.4 mm)
Weight: 0.15 lbs. (0.07 kg)
Current draw: none, no interface to aircraft power
Operating voltage: none, connected to ADAHRS, no interface to aircraft power
Circuit breaker: none
Cooling: no cooling required
Connectors: 5 ft. 3-conductor shielded wire lead, spliced into wiring harness