Search Title
https://www.bendixking.com/en/search.html
Do you know that your internet browser is out of date?
Your browser is out of date, and may not be compatible with our website.
Please use IE11, or download the latest version of Chrome, Firefox or Edge.
Close This Window
By closing this window you acknowledge that your experience on this website may be degraded.
AeroFlight Digital Attitude Indicator
Primary attitude indicator with optional autopilot adapter
$3,995 USD*
With KA 310 Autopilot Adapter: $5,330 USD*
Overview
Specifications
Resources
Videos
AeroFlight, also known as the KI 300, is a modern, solid-state system that can serve either as a primary or backup attitude indicator. It also has the option for an autopilot adapter, the KA 310, that can control many autopilots, including native support for many BendixKing autopilots.
UPGRADE TO ALL DIGITAL
AeroFlight provides a modern looking electronic display that provides aircraft attitude, airspeed, altitude, vertical speed and slip/skid. It is a complete AHRS in a 3" package that fits in your existing panel cutout. Its internal battery eliminates the need for a vacuum gyro and provides 2 hours of standby performance.
RELIABILITY AND SAFETY
With no mechanical moving parts, AeroFlight has a MTBF (mean time between failures) of 10,000 hours, which means it will likely never fail for the life of your airplane. It is certified as sole source replacement attitude source for an autopilot, and can also serve as a perfect backup indicator.
AFFORDABLE UPGRADE
AeroFlight's KI 300 and KA 310 replaces the KI 255, KI 256 and the KG 258 with no changes to your instrument panel. KAP 100, 150, 200 and KFC 150, 200, 225 autopilots are natively supported using the AeroFlight KA 310 autopilot interface. The autopilot can be aligned and the air data computer calibrated, both with AeroFlight in the panel, simplifying installation and maintenance. This upgrade lets you save the typical $4000 to overhaul mechanical gyros every 800 hours, and gives all of the information in a primary flight display at a much lower cost.
Standard Features
Solid state replacement for KI 255/256 flight director indicator and KG 258 attitude indicator
Displays pitch, bank and flight director bars
Displays barometric air pressure
Displays TSO'd airspeed, altitude, vertical speed and slip indicators
Available Options
Yaw rate sensor replicates KRG 330 and 331 yaw rate sensors
KAP 235 replaces KA-185/285 annunciators if controller can't be in pilot's normal field of view
Specifications
3.5 x 3.2 x 1.7 in. (89 x 81 x 143 mm)
0.7 lbs (317g)
-20° C to +55° C (-4° F to +131° F)
Operating altitude: 35,000 ft
14 and 28 VDC systems (11-32 VDC)
Power consumption: 35 Watts
Backup battery: internal, 2 hours nominal charge
Certifications
As sole source 3-axis attitude reference for autopilot
TSO C2d (Type B), C3e, C4c, C8E (Type B), C10b (Type I), C113a, C198, C201 (A5 HX T7)
Simple Installation under an AML STC
Software: DO-178 Level C
AeroFlight KI 300 Brochure
AeroFlight KA 310 Autopilot Adapter FAA-AML STC
AeroFlight Electronic Attitude Indicator/Autopilot Adapter Brochure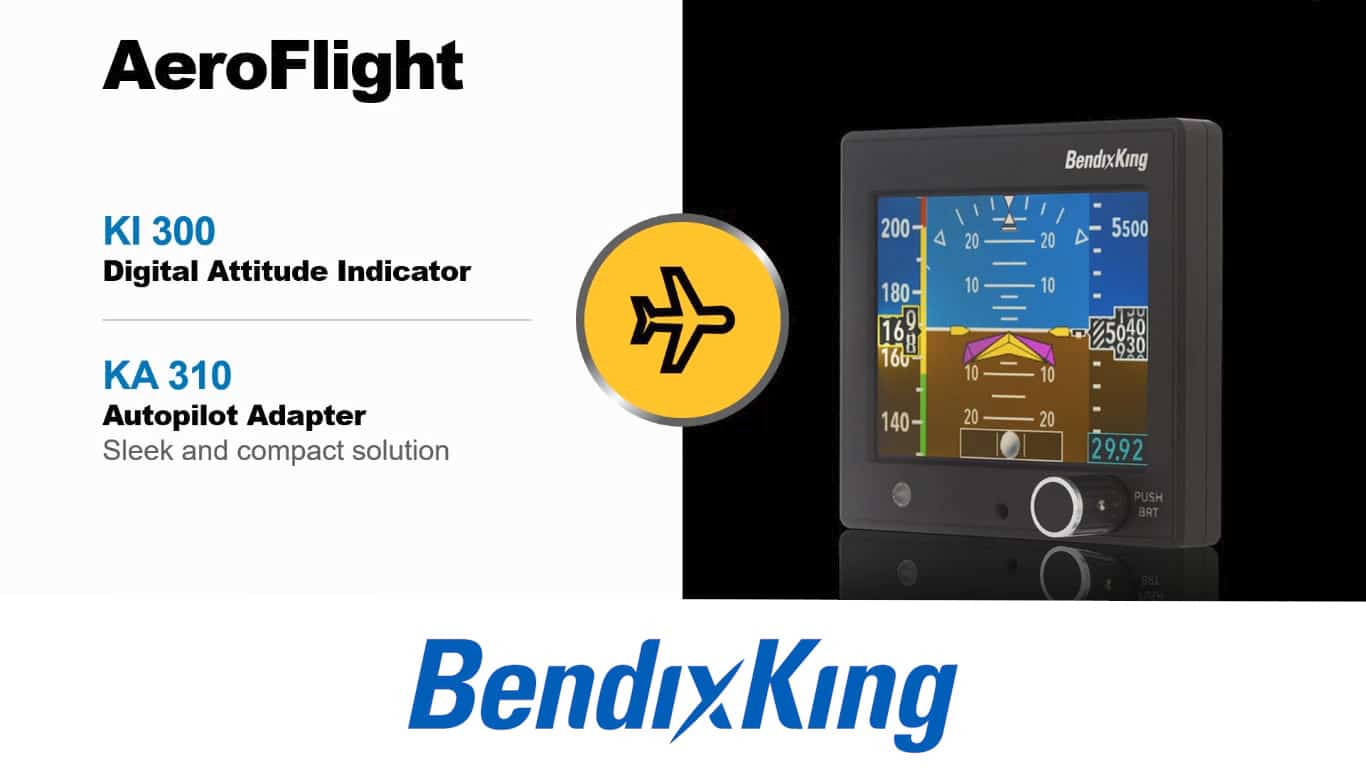 *Prices listed are manufacturer's suggested retail prices (MSRP).  Actual price is determined by BendixKing's authorized dealers and may vary depending on, among other things, country, region, installation costs and any additional parts that may be required.  For more complete pricing information, please contact an authorized BendixKing dealer.