Do you know that your internet browser is out of date?
Your browser is out of date, and may not be compatible with our website.
Please use IE11, or download the latest version of Chrome, Firefox or Edge.
Close This Window
By closing this window you acknowledge that your experience on this website may be degraded.
AeroCruze 100
AeroCruze 100
AeroCruze 100 Autopilot for Cessna and Piper Aircraft
$5,100 USD*
Overview
Specifications
Supported Aircraft
Resources
Videos
The AeroCruze 100 is an affordable and flexible digital autopilot system for Cessna 172, 175, 177, 180, 182, 185 and Piper PA 28 and PA 32 aircraft. The AeroCruze 100 provides a seamless integration with the AeroVue Touch EFIS as well as a variety of other manufacturers.
TruTrak is now a part of BendixKing
AeroCruze 100 (PMA Vizion) 2' round
AeroCruze 100 (PMA Vizion) flat pack
AeroCruze 100 (PMA Vizion) 3' round
EXTREMELY AFFORDABLE
Complete system is offered at a low cost, with the choice of three form-factor variations: 2" round 3" round Flat pack.
POWERFUL AND FLEXIBLE
Emergency autopilot level button helps to bring the aircraft to a wings-level position. Connects to either hand-held GPS or IFR panel mount GPS systems. When connected to hand-held GPS, follows programmed flight plans When connected to panel mount GPS, autopilot follows roll steering commands to fly complex flight plans Similar to lane assist in automobiles, the AEP stand-by mode monitors aircraft bank angle. Autopilot corrects the bank angles greater than 45 degrees by automatic roll command.
For repairs, please contact one of our authorized repair partners below:
US:
Kansas
Monday - Friday
7:00 a.m. - 7:00 p.m. (CST)
9400 East 34th Street North Wichita, Kansas 67226 USA
Tel: 316.630.0101
Tel: 800.821.1212
Fax: 316.630.0723
California
Monday - Friday
8:00 a.m. - 5:00 p.m. (PST)
16320 Stagg Street Van Nuys, California 91406 USA
Tel: 818.786.0300
Tel: 800.345.7599
Fax: 818.786.2734
Asia-Pacific:
Avionics 2000
Hangar 6, Essendon Airport, Melbourne VIC 3041, Australia
Tel: + 61 3 9379 9500
Fax: + 61 3 9379 8695
Email: info@avionics2000.com.au
Standard Features
Two Standard Servos
Built-in Ground Track DG
Track Select Mode
GPS Nav Mode
GPS Steering Mode
Altitude Hold
VS Select Mode
Altitude Pre-select
Altitude Select
Vertical GPS Steering Mode
Control Wheel Steering
Pitch Trim Annunciation
Specifications
12-28 Volt Variants
2" Round: 2.5" H x 2.5" W x 5.5" D
3" Round: 3.25" H x 3.25" W x 5.5" D
Flat Pack: 1.6" H x 4.3" W x 6.1" D
Certified for these aircraft:
Cessna 172
Cessna 175
Cessna 177
Cessna 180
Cessna 182
Cessna 185
Piper PA 28
Piper PA 32
AeroCruze 100 STC Permission Letter Request
Please complete this form to request a digital copy of STC No. SA04231CH for the AeroCruze 100 (TruTrak Vizion PMA) Autopilot.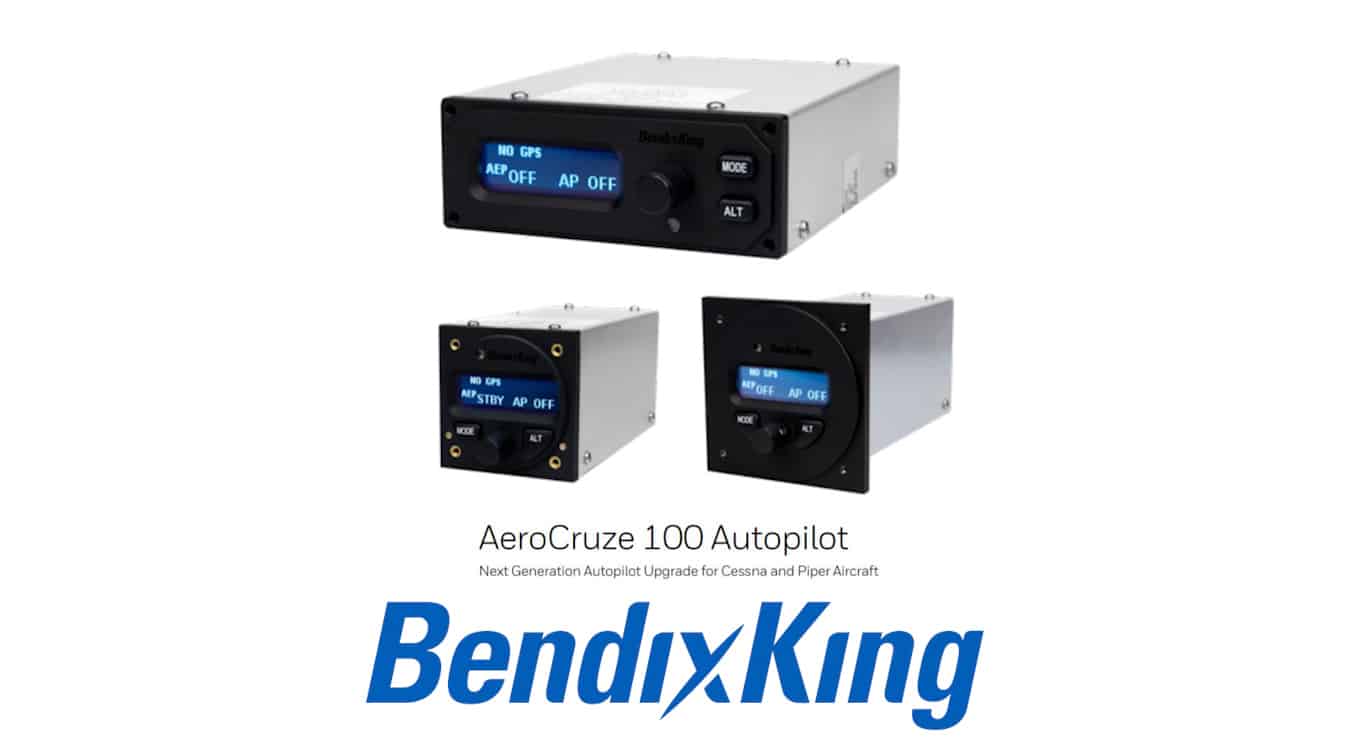 *Prices listed are manufacturer's suggested retail prices (MSRP). Actual price is determined by BendixKing's authorized dealers and may vary depending on, among other things, country, region, installation costs and any additional parts that may be required. For more complete pricing information, please contact an authorized BendixKing dealer.