Do you know that your internet browser is out of date?
Your browser is out of date, and may not be compatible with our website.
Please use IE11, or download the latest version of Chrome, Firefox or Edge.
Close This Window
By closing this window you acknowledge that your experience on this website may be degraded.
AeroVue Touch for Certified Aircraft
Fast, simple and powerful flight display with superior craftsmanship
$12,567 USD*
Overview
Specifications
Resources
Videos
AeroVue Touch can be installed as a primary flight display in a new certified aircraft or as a replacement for outdated steam gauges in an existing aircraft. The 10.1" display provides the highest screen resolution in the industry. The display can be used as full screen primary flight display or a split screen primary and multifunction display.
AeroVue Touch was awarded the 2018 Good Design Award in the Transportation category, earning a place among designs from other big names in the technology and transportation industries.
AFFORDABLE

The low cost, high performance AeroVue Touch supplants all previous generations of flight displays for certified aircraft. It comes standard with all flight indicators, the industry-leading SmartView synthetic vision, a vertical situation display that shows flight path over terrain, and ADS-B In weather and traffic. It includes free software upgrades coming soon to include engine instrument display and radio and autopilot control. AeroVue Touch integrates seamlessly with BendixKing KSN, Garmin GTN/GNS, and Avidyne IFD navigators, saving the cost of replacing a navigator.
SUPERIOR CRAFTMANSHIP
Our industrial designers imagined and realized the AeroVue Touch delivering improved comfort & ease of use. With no cooling fan, AeroVue is quiet and has no moving parts to break. An ergonomic grip around the display makes it easy to access functions on screen even in turbulence. The separate controller gives you options to mount it anywhere on the panel you would like. The highest quality materials have been incorporated into the design by Honeywell experts, drawing from our programs like the F-16 avionics. Years of extensive in-lab and flight tests have been conducted to ensure superior quality, reliability & safety.
FAST, SIMPLE, POWERFUL
Cutting edge touch technology provides high touch accuracy. The display and menu structure have been streamlined and simplified so that all critical functions can be reached in 2 touches or less. AeroVue Touch comes with built-in Wi-Fi that allows you to upload databases within 4 minutes, and software updates in less than 10 minutes. The 10.1 inch high resolution screen provides 16.7 million colors with 1000 nits of luminescence and a 800:1 contrast ratio. The high quality coated glass provides 92% light transmissivity, and is anti-glare, anti-smudge, and anti-scratch. All of this provides you with a sharp, bright screen, easily readable in daylight.
Standard Features
1920 X 1200 WUXGA high resolution touchscreen display
Attitude, heading, turn coordinator, airspeed, altimeter, vertical speed and course deviation indicators
Full screen mode can show primary flight display, split screen mode can show primary and multifunction displays
Multi-function display includes moving map, VFR and IFR charts, ADS-B traffic and weather
SmartView synthetic vision
Integration with commonly used autopilots and navigators
4-Knob remotely mounted controller
Built-in Wi-Fi and USB-C port
Full 2-year system warranty
Primary Flight Display
Dimensions: 6.897 x 10.45 x 4.08 in. (175.18 x 265.43 x 103.63 mm)
Mounting: front mount
Weight: 7.59 lbs. (3.44 kg)
Current draw – typical: 1.33 AMP for 28 VDC | 2.66 AMP for 14 VDC
Operating voltage: 9.0 to 30.3 VDC
Circuit breaker: 2 AMP for 28 VDC, 3 AMP for 14 VDC
Cooling: convection cooled (no fan)
Connectors: 1 female 78-pin and 1 male 78-pin
Viewing angle envelope: 80° from all directions
Control Panel
Dimensions 1.48 x 6.25 x 3.67 in. (37.6 x 158.8 x 93.2 mm)
Mounting: front mount
Weight 1.05 lbs. (0.47 kg)
Current draw: powered from flight display, current draw, included with flight display
Operating voltage: provided by flight display
Circuit breaker: none, uses circuit breaker for flight display
Cooling: convection cooled (no fan)
Connectors: male 9-pin D-sub
Magnetometer
Dimensions: 3.70 x 5.83 x 1.33 in. (93.98 x 148.08 x 37.78 mm)
Weight: 0.90 lbs. (0.41 kg)
Temperature: -55 ° C to +70° C
Altitude: 55,000 ft.
Operating voltage: 9.0 to 30.3 VDC
Current draw (at 27.5 VDC)

80 mA Nominal, 25° C, after 2 minute warmup
200 mA Nominal, -55° C, after 2 minute warmup
700 mA Maximum, -55° C

Circuit breaker: 1 AMP for 28 VDC, 2 AMP for 14 VDC
Signal inputs/outputs: Serial CAN bus
Cooling: convection cooled (no fan)
Connector: female 9-pin
Air Data Attitude Heading Reference System (ADAHRS)
Dimensions: 8.65 x 5.1 x 1.4 in. (219.72 x 129.43 x 35.56 mm)
Weight: 2.17 lbs. (0.98 kg)
Current draw – typical: 0.2 AMP for 28 VDC | 0.4 AMP for 14 VDC
Operating voltage: 9.0 to 30.3 VDC
Circuit breaker: 2 AMP for 28 VDC, 3 AMP for 14 VDC
Cooling: convection cooled (no fan)
Connectors: male 50-pin and female 9-pin (maintenance port)
Outside Air Temperature Probe (OAT)
Dimensions: 1.65 x 1.75 x 1.00 in. (41.91 x 44.45 x 25.4 mm)
Weight: 0.15 lbs. (0.07 kg)
Current draw: none, no interface to aircraft power
Operating voltage: none, connected to ADAHRS, no interface to aircraft power
Circuit breaker: none
Cooling: no cooling required
Connectors: 5 ft. 3-conductor shielded wire lead, spliced into wiring harness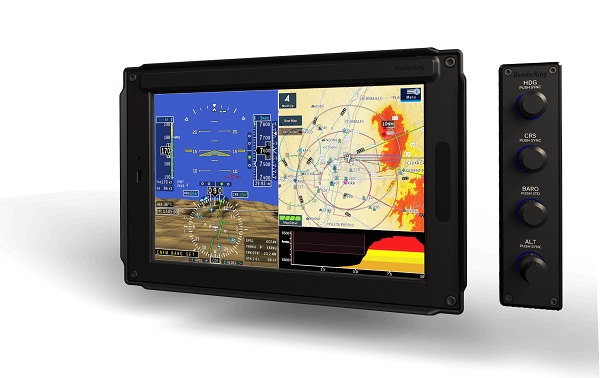 The AeroVue Touch Flight Deck
*Prices listed are manufacturer's suggested retail prices (MSRP). Actual price is determined by BendixKing's authorized dealers and may vary depending on, among other things, country, region, installation costs and any additional parts that may be required. For more complete pricing information, please contact an authorized BendixKing dealer.