Search Title
/content/bendixking/us/en/search.html
Do you know that your internet browser is out of date?
Your browser is out of date, and may not be compatible with our website.
Please use IE11, or download the latest version of Chrome, Firefox or Edge.
Close This Window
By closing this window you acknowledge that your experience on this website may be degraded.
Perfect sound quality with an easy-to-use, state-of-the-art audio panel
Overview
Specifications
Resources
Videos
Modernize your aircraft audio system with the highly advanced and versatile AeroPanel 100. The AeroPanel 100 is a full-featured audio panel that is easy-to-use, with connectivity choices that you expect. It is perfect for the pilot, the crew and the passengers – each getting their own audio streams when and where needed.
Easy-To-Use
AeroPanel 100 has easy-to-use, intuitive interfaces with buttons that are clearly marked. It requires near-zero-training time, no need for memorization of actions and no need to re-learn at any time. There is no need for a "cheat-sheet" that may be required in competing products. Practically, all functions are easily accessible via the buttons on the front panel.
Connectivity
Bluetooth connectivity offers the ability to pair two devices at any one time. The second Bluetooth module can stream audio that the pilot hears to a Bluetooth enabled device, such as an iPhone (using a free iOS application called FlightLink) or a video camera such as the GARMIN VIRB. This can be a great method to wirelessly stream audio to a digital video camera, for example using it as a training tool.
At all times, passengers will only hear what the intercom is configured for them to hear. Pilots can use their Bluetooth-enabled smart telephones to contact ATC while the engine(s) is running and the radios are tuned and set. The smart telephone becomes a third transmitter for IFR clearances.
Advanced Features
The AeroPanel 100 offers many advanced features that make flying more enjoyable and informative for the pilot and passengers. Examples are:
Music Distribution Mode 1: Music 1 via Bluetooth to crew while Music 2 to passengers
Music Distribution Mode 2: Music 1 via Bluetooth for all headsets
Music Distribution Mode 3: Music 1 via Bluetooth to everyone until intercom placed in CREW mode, then Music 2 is heard by the passengers
IntelliAudio - This standard feature, is one of the most advanced capabilities of AeroPanel 100. It enables manageability in listening to multiple, simultaneous radio calls. It also allows the pilot to pay attention to the radio that is important at any instant in time, making radio communications during busy workloads easier.
Alternate Intercom Function - AeroPanel 100 can control the distribution of aircraft radio within the intercom. While in "Standard Intercom Function" mode, the audio panel's intercom works like all other aircraft intercoms with the ISO, ALL, and CREW modes.
Additional Features
USB charging port – this port is rated at 10 watts and provides adequate power for iPads that are running the most demanding applications and, at the same time, charging the iPad battery.
6-Place Hi-Fi stereo IntelliAudio intercom with Soft Mute
Three music mute modes – Mute On, Mute Off, Radio Mute
Three Isolation modes – Pilot Isolate, All, and Crew and "Alternate Intercom Mode"
For technical support contact: techsupport@bendixking.com
Standard Features
Transmitter Selections: 2 selections (Com 1, Com2)
Receiver Inputs: 5 inputs (Nav1, Nav2, MKR, AUX/DME*)

*DME is switched with AUX input

Marker Beacon: Internal
Unswitched Inputs: 4
Certifications
Approved Basis: FAA TSO C35d, c50c EASA ETSO C50G C35d
Certification Documents: RTCNDO-214 RTCNDO.143 RTCAJ DO-160D RTCAJDO-178B DO-254
Environmental Qualification: TRCA DO-160D AI DI CABSMXXXXXXZBATBXXQXXX
Specifications
Weight: 1.85 lbs
Dimensions: 1.3 x 6.25 x 7.15 in (3.3 x 16.9 x 18.16 cm)
Power Requirements: 11-33 VDC, 2.5 Amp
Output Power: Speaker - 3 watts (14V)/ 10 watts (28V) Headphones; 38mW each headset, no clipping < 1% distortion typical
Audio Frequency Response: +- 3db, 300-6000 Hz
Entertainment Frequency Response: +- 3db, 20Hz - 18kHz
Temperature Range: -150C to 550C
Altitude: 50,000 feet unpressurized
Marker Receiver: 75Mhz, crystal controlled
External Marker Outputs: Lights and MM sense output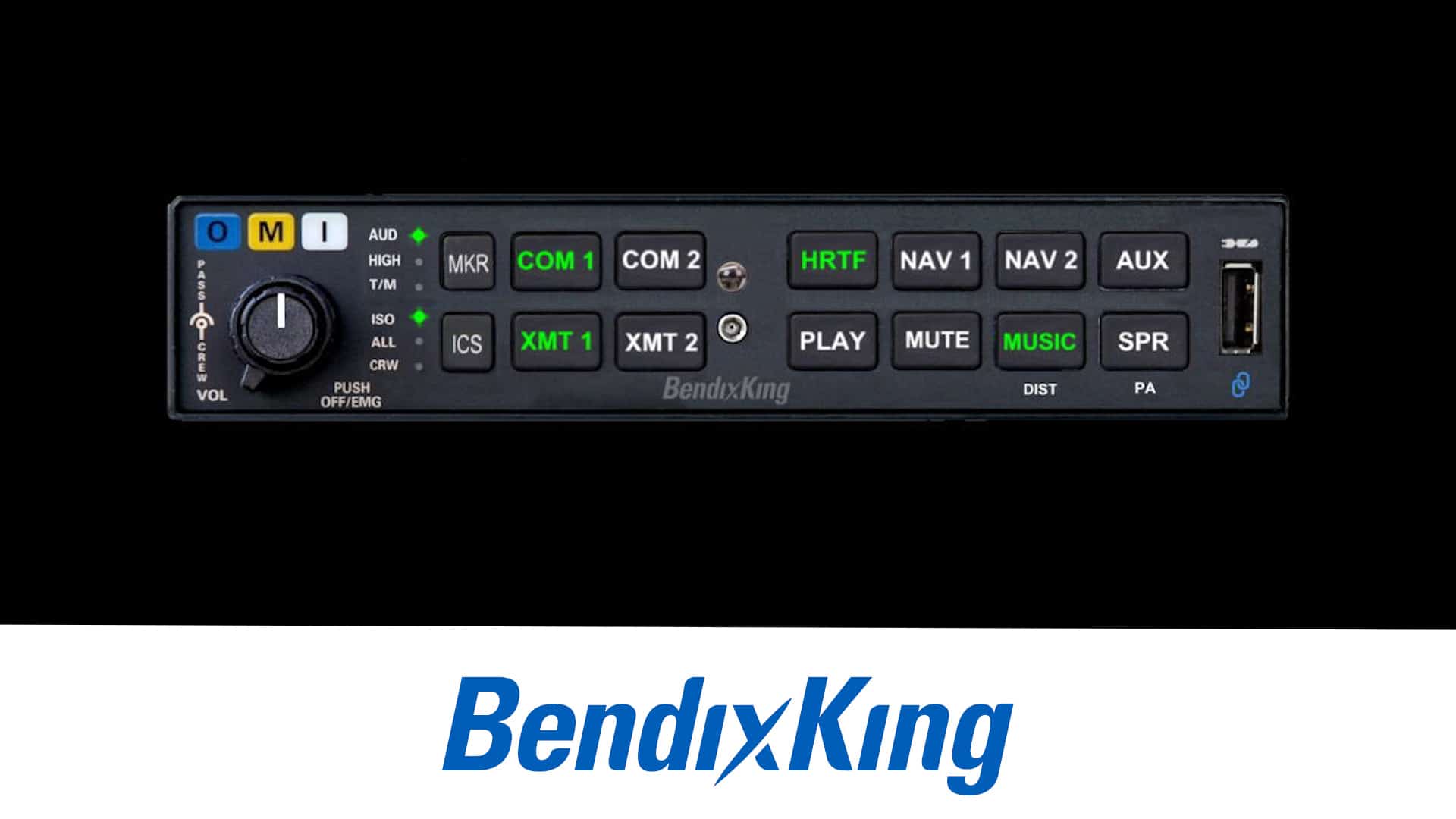 *Prices listed are manufacturer's suggested retail prices (MSRP). Actual price is determined by BendixKing's authorized dealers and may vary depending on, among other things, country, region, installation costs and any additional parts that may be required. For more complete pricing information, please contact an authorized BendixKing dealer.